Offering

  young women an opportunity to rebuild their lives and prevent homelessness.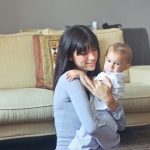 Parkside Women's Scheme houses young women in Leicester who may be facing homelessness, including pregnant women or mothers and babies / young children.  It offers 7 places, all of which come with a private bedroom and shared communal living area.
A unique and much needed scheme, our aim is to offer temporary housing and an opportunity for women to rebuild their lives in order to secure and sustain more permanent accommodation going forward. 
The length of stay for this scheme, which is reviewed every 3 months, depends on individual circumstances and the move on plan.  The Intensive Housing Management Officer works closely with women residing at the scheme to secure permanent housing and create a brighter future.
If you think you or a woman you know could use the scheme, download the Application for Housing Form for Parkside below.
The Intensive Housing Management Officer will support residents to:
Maintain licence agreement

Address financial issues, develop budgeting skills and maximise benefit entitlement

Access other services and facilities including health/ social care services, community services, education

Maximise employment opportunities

Move on to independent living including practical advice and support
Enquire Online
For more information on the scheme and how we can help you or a loved one, then please complete the form or give the team a call!